Video Games Live: Level 2 é anunciado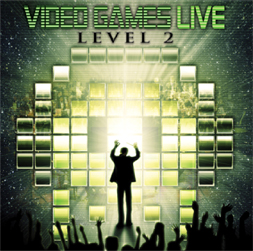 Não é de hoje que o público deseja um DVD das apresentações da Video Games Live. Desde seu primeiro show os gamers do mundo todo infernizam Tommy Tallarico querendo saber quando o tal DVD será lançado. O primeiro CD, batizado de "Video Games Live: Volume One" chegou, mas a track list fraca não foi o suficiente para saciar os desejos do público que continuou pedindo por um DVD.
Pois bem, eis que quando todos menos esperam as preces foram atendidas. Tommy Tallarico anuncia Video Games Live: Level 2 em Blu-Ray, DVD e CD, com lançamento marcado para 19 de outubro.
O conteúdo a ser utilizado é o da apresentação em Nova Orleans, realizado em abril e conduzido pela Louisiana Philharmonic Orchestra, com participações solo do pianista Martin Leung e da flautista Laura "Flute Link" Intravia. Além do show também estão incluídas faixas inéditas e mais de 3 horas de extras, que vão desde entrevistas, bastidores e trailers até making of, documentários e muito mais.
O CD e o DVD/Blu-Ray receberam um track list diferente, com 16 faixas num total de 74 minutos e 36 segundos no primeiro e um show de 1 hora e 40 minutos no segundo. Ambos trazem músicas de séries famosas como The Legend of Zelda, Mario, Sonic, Final Fantasy, God of War, Halo, Chrono Trigger, Warcraft, dentre outros.
A seguir reproduzo a track list do release que recebi com o conteúdo do CD e DVD/Blu-Ray:
VIDEO GAMES LIVE: LEVEL 2 CD TRACK LISTING
1.   The Legend of Zelda™ Suite
2.   Civilization IV®: Baba Yetu (Duet Version)
3.   God of War™: Revenge and Redemption
4.   Chrono Trigger® & Chrono Cross® Medley
5.   World of Warcraft®: Lament of the Highborne
6.   Mario™ Solo Piano Medley
7.   Super Mario Bros.™ Medley
8.   Warcraft® Montage
9.   Sonic the Hedgehog™: Staff Credits
10. Advent Rising™ Overture
11. Megaman® Montage
12. StarCraft® II: Wings of Liberty Theme
13. Final Fantasy® Solo Piano Medley
14. Halo® Montage
15. Castlevania® Rock Overture
16. Final Fantasy® VII: One Winged Angel (Rock Edition)
Running Time
74:39 minutes (16 tracks total)
VIDEO GAMES LIVE DIGITAL DOWNLOAD BONUS TRACKS
"Myst Suite" and "Mass Effect Suite"
VIDEO GAMES LIVE: LEVEL 2 DVD & BLU-RAY INCLUDES
Classic Arcade Medley
Halo® Montage
Civilization IV®:  Baba Yetu (Duet Version)
StarCraft® II:  Wings of Liberty Theme
Sonic the Hedgehog™:  Staff Credits
Advent Rising™ Overture
Interactive Guitar Hero®: Aerosmith – "Sweet Emotion"
Warcraft® Montage
Chrono Cross®:  Scars of Time
Mass Effect™ Suite
Megaman® Montage
Tribute To Ralph Baer
Myst® Suite
The Legend of Zelda™ Suite
Super Mario Bros.™ Medley
God of War™:  Revenge and Redemption
Martin Leung – Mario™ Solo Piano Medley
Martin Leung – Tetris® Solo Piano Medley
World of Warcraft®:  Lament of the Highborne
Castlevania® Rock Overture
Concert Running Time = 100 minutes (1:40)

BONUS MATERIALS

Interviews
Tommy Tallarico
Ralph Baer
Jamie Lee Curtis
Russell Brower
Gerard Marino
Christopher Tin
Martin Leung
Jayson Hayes

Behind the Scenes
Tommy's Guitars
Joystick Podium
Behind the Scenes Tour
Composers Party in Japan

Teasers, Trailers & Game Making
Video Games Live 2010 Trailer
Tetris® 25th Anniversary
The Making of Dragon's Lair®
Dragon's Lair® Attract Screen
Halo® Reach Trailer
Castlevania®: Lords of Shadow Trailer
Sonic the Hedgehog™  4 Teaser
Civilization V® Trailer
God of War™ III Trailer
"Yuri the Only One For Me" music video
Creator Commentary Audio Option
Leonardo Marinho é apaixonado por games, viciado em tecnologia e apreciador de todas as formas de entretenimento. Quando possível ele tenta ser gamer, manter o Deu Tilt atualizado e levar uma vida normal. Sua consciência ainda não foi afetada pelas intempéries do tempo e ele aproveita essa façanha para redigir textos coerentes para o Deu Tilt. Ele faz o que pode…
3 respostas para "Video Games Live: Level 2 é anunciado"